2023 Medicare Part A Costs
Generally speaking, Medicare Part A does not charge a monthly premium as long as you meet the requirements for $0 premium Part A coverage. Associated costs for Medicare Part A are as follows:
No monthly premium ($499 is the monthly premium if you or your spouse did not work for 10 years)
$1,600 deductible for a hospital stay
$0 for the first 60 days of a benefit period
$400 per day for days 61 through 90
$0 for the first 20 days of a skilled nursing facility (SNF) stay
$200 per day for days 21-100 for an SNF stay
All costs past day 100 of an SNF stay
2023 Medicare Part B Costs
Premium for Medicare Part B
Medicare Part B covers doctor visits, lab tests, medical products, and associated costs, and this carries a monthly premium.
In 2023, for the state of New Jersey, the base monthly premium for Medicare Part B is $164.90. This amount is adjusted annually and is based on the Modified Adjusted Gross Income (MAGI) from two years prior.  The premium can increase depending on your income.  Below is a chart with a breakdown of the Medicare Part B premium tiers.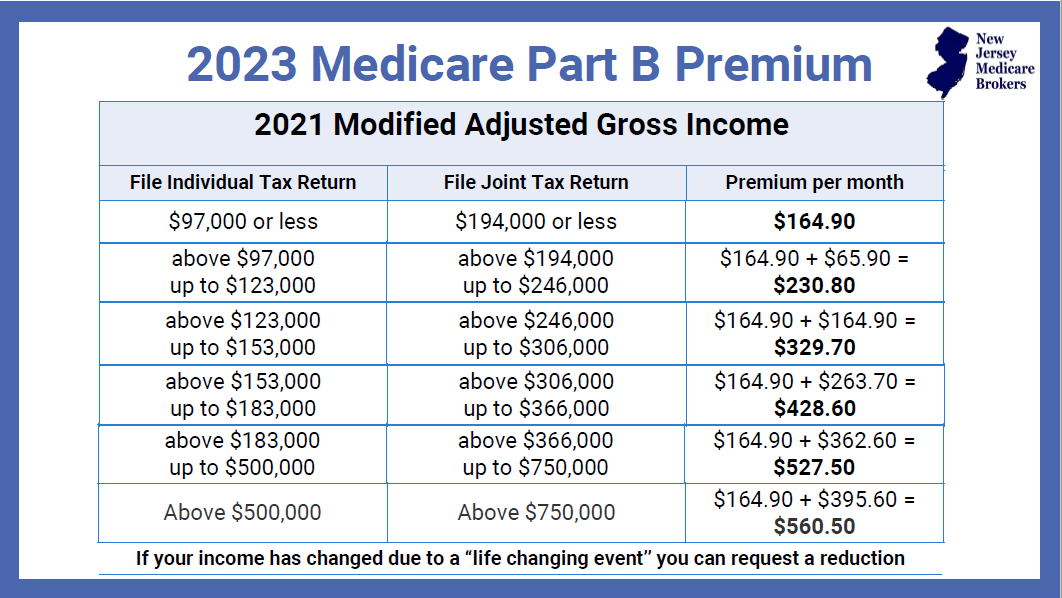 *If you have a low income the State of New Jersey may be able to help pay your Medicare premium.
Medicare Part B Annual Deductible
In 2023, Medicare Part B's annual deductible is $226. If you keep Original Medicare (Parts A & B) will owe this deductible every year when they first use their coverage. After that is reached Medicare pays 80% and you are responsible for 20% coinsurance. Certain Medicare Supplement plans may cover the Medicare Part B annual deductible.
If you take a Medicare Advantage plan (Part C), the Medicare Part B deductible is covered by your plan and is not owed by you.
2023 Medicare Part D Costs
If you enroll in Medicare Part D for prescription drugs, the monthly premium for your plan can vary.  Additionally, if you have a high income (same income brackets as Part B high income surcharge) you will be assessed an additional fee for the drug plan plan you choose.  This monthly fee is added onto your Part D premium and is billed by Medicare (CMS) directly.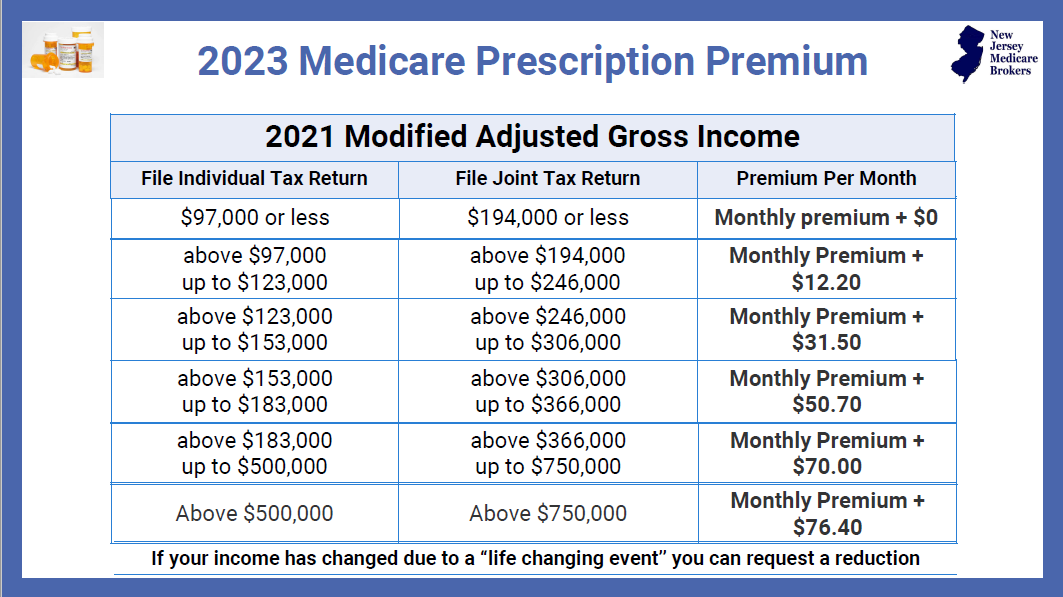 The Stages of Drug Coverage
In 2023, all Medicare Prescription Drug plans are structured the same with the following phases of coverage for each calendar year:
Deductible: Ranges from $0 to $505 and varies by plan. During this stage you pay the full cost of the medication up to the deductible amount.
Initial Coverage: Once the deductible is met you then pay a copay or coinsurance for your medication.  The cost depends on the tier of the medication with lower tier "generics" having a lower copay than higher tier "brand name" medications.
Coverage Gap or "Donut Hole": You enter the donut hole when your expenses plus the insurance company's expenses for your medications exceeds $4,600. At this point you pay 25% of the cost of your prescriptions until the total the manufacturer and you have paid reaches $7,400.
Catastrophic Coverage: During this stage, you pay 5% of the cost of the drug or a low copay.