When Does Medicare Start if You Are Turning 65?
Medicare can begin the FIRST DAY of your birthday month.  HOWEVER, if you were born on the first day of the month Medicare can begin the first day of the month BEFORE your birthday month
Question to ask: Are you Collecting Social Security Benefits?
If you ARE collecting Social Security benefits you should receive a letter from the Center for Medicare and Medicaid Services (CMS) 3 months before your birthday month stating you were automatically enrolled in Medicare Parts A and B.  If you would like to decline Medicare Part B, commonly because you plan to remain on employer coverage, you will have to follow CMS instructions listed in the letter.
If you are NOT collecting Social Security benefits you will have to apply for Medicare Part A and Part B.  You will NOT be enrolled automatically.
When Does Medicare Start for Certain Medical Conditions?
If you are disabled and have received Social Security benefits or Railroad Retirement disability payments for 24 months, you will automatically be enrolled in Medicare.
Those with Lou Gehrig's disease, or ALS, can receive Medicare benefits the first month they receive Social Security or Railroad Retirement benefits.
Lastly, those with end-stage renal disease can receive Medicare regardless of their age starting on the first day of the fourth month of dialysis treatments. However, if they receive homecare, they are covered as early as the first month.
Important Medicare Enrollment Timelines
Your Intital Enrollment Period (IEP) for Medicare begins three months prior to your 65th birthday month and up to three months after your 65th birthday month—essentially providing you seven months to enroll in Medicare.  If you want Medicare Parts A and B to start on your 65th birthday month and avoid any late enrollment penalties, it is very important to apply in advance.  
Turning 65 - Medicare Enrollment Examples
Example #1:
If you sign up for Medicare up to three months prior to your 65th birthday month, coverage starts on the first (1st) of your birth month. See illustration below.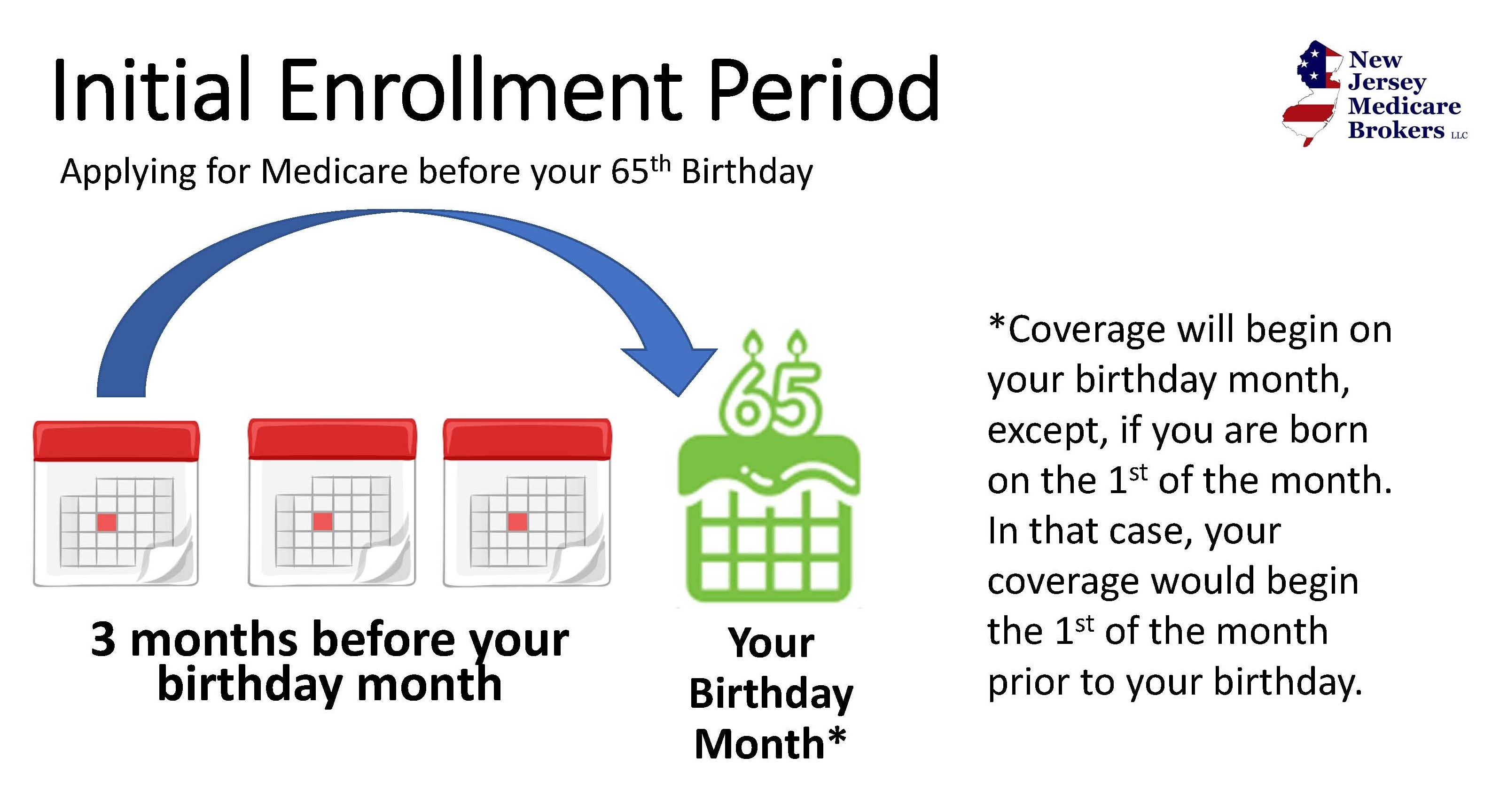 Example #2:
If you sign up during or one of the three (3) months after your 65th birthday month, your coverage will begin the following month.  See illustration below.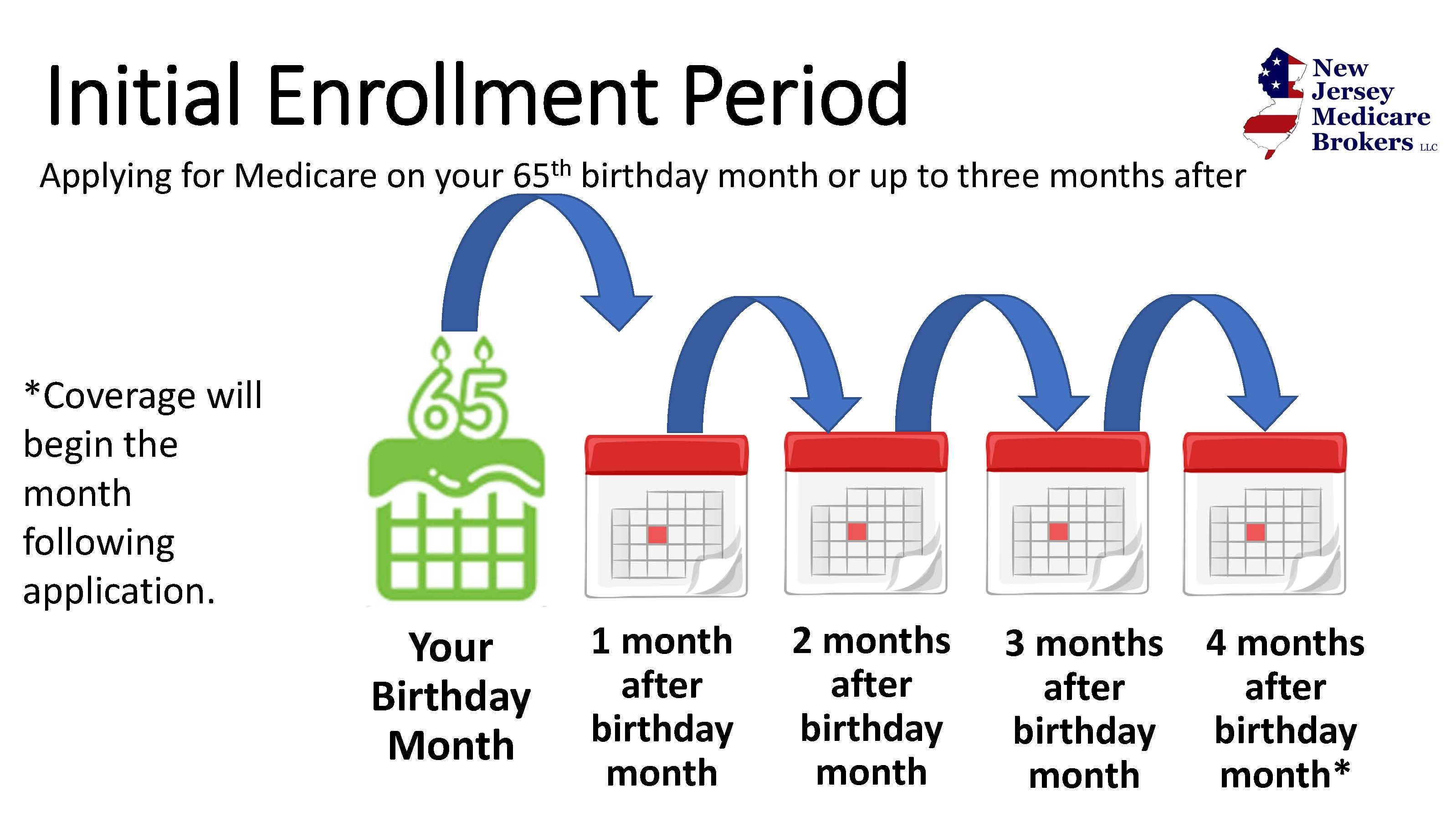 Where Can I Apply for Medicare?
For the quickest turnaround on your application for Medicare, we recommend going in-person to your local Social Security office. 
The phone number for Social Security is 1-800-772-1213 and the website to look up your closest location is Social Security Office Finder.  See below for a list of Social Security Local Offices.
| | | | | |
| --- | --- | --- | --- | --- |
| Office | Address | City | State | Zip Code |
| Brick Office | 2620 Yorktowne Blvd | Brick | NJ | 08723 |
| Bridgeton Office | 149 West Broad Street | Bridgeton | NJ | 08302 |
| Cherry Hill Office | Five Executive Campus | Cherry Hill | NJ | 08002 |
| Clifton Office | 935 Allwood Rd | Clifton | NJ | 07012 |
| Egg Harbor Twp Office | 1350 Doughty Rd | Egg Harbor Twp | NJ | 08234 |
| Union Office | 855 Lehigh Ave | Union | NJ | 07083 |
| Glassboro Office | 830 Delsea Dr North | Glassboro | NJ | 08028 |
| Hackensack Office | 401 Hackensack Ave | Hackensack | NJ | 07601 |
| Hoboken Office | 79 Hudson St 6th Fl | Hoboken | NJ | 07030 |
| Iselin Office | 190 Middlesex Trnpike | Iselin | NJ | 08830 |
| Jersey City Office | 325 West Side Avenue | Jersey City | NJ | 07305 |
| Neptune Office | 3310 State Route 66 | Neptune | NJ | 07753 |
| New Brunswick Office | 550 Jersey Avenue | New Brunswick | NJ | 08901 |
| Newark Office | 274 Springfield Ave | Newark | NJ | 07103 |
| Newark Office | 970 Broad Street | Newark | NJ | 07102 |
| Newton Office | 20 East Clinton Street | Newton | NJ | 07860 |
| Parsippany Office | 2200 State Rt 10 | Parsippany | NJ | 07054 |
| Paterson Office | 200 Federal Plaza | Paterson | NJ | 07505 |
| Rio Grande Office | 1046 Route 47 South | Rio Grande | NJ | 08242 |
| Somerville Office | 29 Davenport Street | Somerville | NJ | 08876 |


Can I delay Medicare?
The most popular reason someone will delay their Medicare coverage is because you or a spouse have employer coverage.   If this is the case you should speak with your HR department or benefits coordinator to ensure your coverage is credible coverage under CMS guidelines. It is important to know that COBRA is NOT considered credible coverage under the CMS guidelines.  
Delaying Medicare Parts A & B due to Employment
Medicare Part A has no monthly fee if you have worked at least 40 quarters (10 years). The only reason to delay that coverage is if your employer plan has restrictions that don't allow you to be enrolled in Medicare Part A.  
If you have credible employer coverage, you can delay Medicare Part B since there is a monthly fee for Medicare Part B which varies based on your income.
Two months prior to losing your employer coverage you can apply for Medicare Part B to start with no penalty.  Two forms will have to be completed, one by you and one by your employer and you will have to either bring the completed forms to your local Social Security office or mail it to the national Social Security office in Baltimore, MD.  
What if I miss my Initial Enrollment Period for Medicare?
If you did not take advantage of the initial seven (7) month window to enroll in Medicare Part B or got disenrolled from Medicare, you can apply during the General Enrollment Period.  This time frame is between January 1 and March 31st and your Medicare coverage will begin the month after you sign up. You may receive a late enrollment penalty (LEP) for every year you did not have credible insurance coverage since you were eligible for Medicare.